Το πέμπτο ετήσιο Metal Masters Clinic πραγματοποιήθηκε το βράδυ της Τετάρτης και μεταδόθηκε σε live streaming.
Διαβάστε συμμετοχές…
Kerry King, Philip Anselmo, Charlie Benante, Frank Bello, Scott Ian, David Ellefson, Billy Sheehan, Mike Portnoy, Gary Holt, Chris Broderick, Rex Brown, Chuck Billy, Steve Vai.
Όλοι αυτοί ανέβηκαν στη σκηνή και έπαιξαν ζωντανά θρυλικά τραγούδια όπως τα Wrathchild, Killers, Strength Beyond Strength, South Of Heaven, Angel Of Death και Fucking Hostile.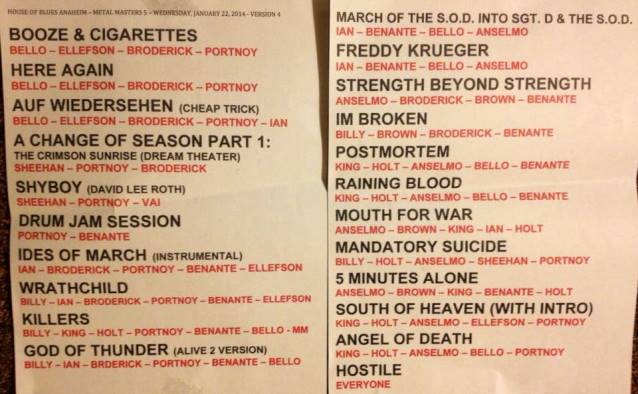 Δείτε ολόκληρη τη συναυλία:
[iframe]<iframe width="640″ height="360″ src="//www.youtube.com/embed/cYPbIsVhB2U?feature=player_embedded" frameborder="0″ allowfullscreen></iframe>[/iframe]
ΠΕΡΙΣΣΟΤΕΡΑ