These are the 50 best metal albums of 2017 as picked by Metal Hammer in the December issue.
Metal Hammer have named Mastodon's Emperor Of Sand their album of the year for 2017.
It's topped the Critics' Poll of the year's finest albums, with the top 100 list available in the brand new edition of the magazine, which is on sale now.
50) Accept- The Rise of Chaos
49) Whoredom Rife – Dommedagskvad
48) Alice Cooper – Paranormal
47) Here Lies Man- Here Lies Man
46) Cradle of Filth – Cryptoriana
45) Horisont – About Time
44) Wear You Wounds – Wear Your Wounds
43) Threshold – Legends of the Shire
42) Elder – Reflections of a Floating World
41) AFI – AFI (The Blood Album)
40) Arch Enemy – Will to Power
39) Stray from Earth – Only Death is Real
38) The Lurking Fear
37) Northlane -Mesmer
36) At the Drive in – Interalia
35) Body Count – Bloodlust
34) Power Trip – Nightmare Logic
33) Full of Hell – Trumpeting Ecstasy
32) Spectral Voice – Eroded Corridors of Unbeing
31) Pertubator – New Model
30) The Contortionist – Clairvoyant
29) The Ruins of Beverast -Exuvia
28) Sikth – The Future in whose eyes
27) Prophets of Rage – Prophets of Rage
26) Trivium – The Sin and the Sentence
25) Royal Thunder – Wick
24) Amners – Mass VI
23) Employed to Serve – The Warmth of a dying sun
22) Satyricon – Deep Calleth Upon Deep
21) Solstafir – Berdreyminn
20) The Obsessed – Sacred
19) Ulver – The Assasination of Julius Ceasar
18) Kreator – Gods of Violence
17) Creeeper –Eternity, in your arms
16) Leprous – Matina
15) Anathema – The optimist
14) Marilyn Manson – Heaven Upside Down
13) Pallbearer – Heartless
12) The Black Dahlia Murder Nightbringers
11) Wolves in the Throne Room – Thrice Woven
10) Converge The Dusk in Us
09) Paradise Lost – Medusa
08) While She Sleeps – You Are We
07) Chelsea Wolf – Hiss Spun
06) Grave Pleasures – Motherblood
05) Zeal & Ardor – Devil is Fine
04) Enslaved – E
03) Code Orange – Forever
02) Myrkur – Mareridt
01) Mastodon – Emperor of Sand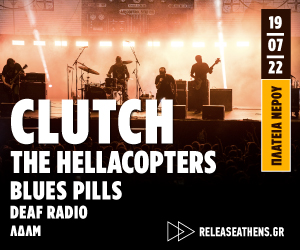 ΠΕΡΙΣΣΟΤΕΡΑ